Preparing to Re-Open: It's About the People Wearing the Shoes
IT'S NOT ABOUT THE SHOES. IT'S ABOUT THE PEOPLE WEARING THE SHOES. This idea is at the core of our company, and it's never been more true than now. ​We are humbled by the stories of the health care workers at the front lines fighting a worldwide pandemic. We are grateful to our customers who have supported us online even when it's taken us a little longer to respond. And we are inspired by our associates who have embraced change as we navigated the new normal.
Recovery isn't about flipping a switch and returning to "business as usual," but we are confident that we will come out of the crisis stronger. The pandemic has had a profound impact on our customers, our associates and our communities. Now, we are looking to the future and adapting our stores and our business in a way that allows us not just to survive, but to thrive.
Store Re-Openings
The health and safety of our customers and associates is our number one priority. As state governments are beginning to lift shelter-in-place and other quarantine restrictions on local businesses, we are following suit with a plan to re-open our stores. Several stores re-opened April 30, and others will open as their respective states determine it's safe to do so. The first week in May, nearly 200 stores will reopen across the U.S. and in Canada. The most current store updates can be found here.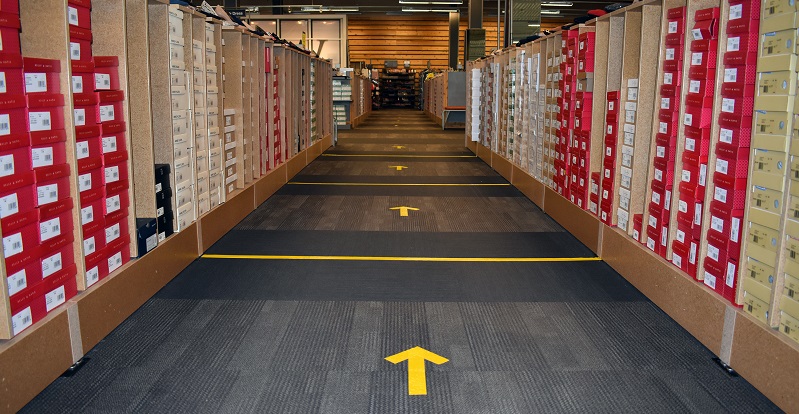 While our stores have been closed, we have been working diligently to have them professionally cleaned and to implement new procedures for our associates to help maximize their safety and that of our customers. These initiatives include:
- Providing ongoing training for associates regarding store cleanliness and customer interaction

- Monitoring associates' temperature as they arrive for work

- Posting associates at store entrances to monitor customer entry and exit to minimize traffic in stores

- Installing sanitation stations at the front of the stores, including hand sanitizer and gloves; face masks are available upon customer request

- Requiring associates to wear facemasks for associate and customer safety

- Posting store-wide reminders to remain six feet from others and directional signage limiting traffic flow within the aisles to one way

- Designated merchandise try-on areas

- Adding health shields at registers and wiping down between customer interactions at registers

- Providing "contact-free" shopping by limiting transactions to credit, debit or gift cards only to reduce contact between associates and customers

- Implementing a process for sanitizing merchandise, and a separate protocol for sanitizing returned merchandise
The goal of these safety measures was not just to comply with recommendations from medical experts and the CDC, but to exceed them. In fact, they are being held up at the national and state levels as an example of best practices for other retailers to follow.
Shopping Experience
Shopping with us is easier than ever before, and customers have several options to choose from, depending on when, where and how they wish to shop. While some customers enjoy the in-store experience, others prefer the convenience of curb-side services such as online pickup, returns or product donations. We are also extending the window for returns and rewards redemption. And of course, DSW.com is always open for business.
Our Commitment to the Community
We know actions speak louder than words, and we're committed to showing our appreciation to those making sacrifices during this time. This means our associates, who have been agile and innovative to meet the changing needs of our business, and those on the front lines in the fight against COVID-19.
Together with Reebok, Camuto, and long-term partner Soles4Souls, an organization creating sustainable jobs and providing relief through the distribution of shoes and clothing around the world, DSW locations across the country will be accepting shoe donations throughout the month of May. Customer donations and a donation of new shoes from DSW, Camuto and Reebok will be presented to those frontline workers and their families. Many of us used the time in quarantine to clean out and reorganize living spaces and closets; this campaign is a way to find a new home for gently used shoes that are no longer needed. As an added bonus, customers who donate two or more pairs of shoes will receive an instant $10 reward. Join us and together we will provide tangible support to those most affected by COVID-19.
 Looking to the Future
How we interact with our customers is going to look different. Overnight we became a dot-com-only retailer when we closed our stores to the public on March 17. As we gradually re-open, we will be an even better omnichannel retailer, offering the shopping experience of the future--innovative, safe and trusted.
In an ever-changing world, shoes still stand for confidence, dignity and opportunity. They express our identity and all that is possible as we step forward in life. We will continue to walk with our customers wherever their journey takes them.  
Roger Rawlins
CEO, Designer Brands